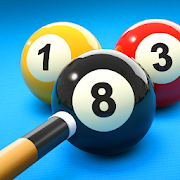 8 Ball Pool apk 4.9.1 Long Line, Auto Win, menu
info:
Long Line, Auto Win, menu
Update:
October 05, 2022 (5 months ago)
Download (62.0Mb)
Download 8 Ball Pool 4.9.1 (Long Line, Auto Win, menu) for android
It's time for billiards gamers to compete against other online players in Miniclip's most original and addictive 8 Ball Pool (Mod, Hint Aim Lines). The 2022 latest version unlocked premium and is in the category of Sports Games. So gamers can enjoy and become professional snooker players.
Players can start by being a member of Miniclip, a Facebook user, or a guest member, without registering. Once logged in, you can either play with your friends or participate in a duel with random players. There is still a third option for touring, but the carrier announced that this feature would be coming soon.
FAQs
1
What are the configuration requirements of the game?
It requires devices running Android 4.4 and above.
2
What is the price of the in-app items?
Their prices are from $0.99 - $109.99 per item.
3
What language does this game support?
It supports 12 languages: English, German, French, Italian, Turkish, Korean, Chinese, Russian, Spanish, Indonesian, Portuguese, Hindi.