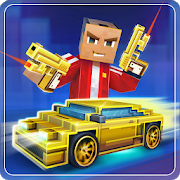 Block City Wars apk 7.2.3 Unlimited Money
App Name:
Block City Wars
Update:
October 26, 2022 (5 months ago)
Download (31.7MB)
Download Block City Wars 7.2.3 (Unlimited Money) for android
Block City Wars is a game from the publisher D-Games Apps described as GTA of Minecraft version. In this game, you will be immersed in the world of notorious gangsters to fight, loot, run away from the police, or hunt for bad guys. Stunning 3D graphics with sharp and realistically designed houses, vehicles, planes, and characters will make you want to be immersed in the game's world forever.