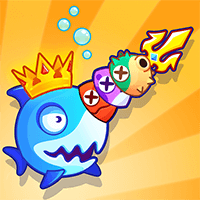 Fish.IO 1.6.8.1 Menu, Energy, Size, Speed
info:
Menu, Energy, Size, Speed
Update:
February 26, 2023 (4 weeks ago)
Download (106M)
Download Fish.IO 1.6.8.1 (Menu, Energy, Size, Speed) for android
Have you ever seen that the big fish will swallow the small fish? If not, then Fish.IO allows you to experience that exciting feeling, and you have control over your fish. This exciting game is creating a huge attraction, and you will have to try and do your best to win. Every game will have challenges posed, and that's why you can also see the tremendous pressure in this game. The even more attractive point is that you will have stiff competition with all your friends and you will represent a country participating in the competition.