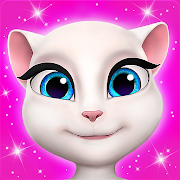 My Talking Angela apk 6.0.2.3411 Unlimited Money
App Name:
My Talking Angela
Latest Version:
6.0.2.3411
Update:
October 05, 2022 (5 months ago)
Download (105.8Mb)
Download My Talking Angela 6.0.2.3411 (Unlimited Money) for android
You are an animal lover who wishes to have pets such as cats or dogs. However, you lack the necessary space and time to raise a pet. Perhaps you're allergic to dogs or cats. Then it would help if you did not miss out on this game.
My Talking Angela is a game for those who love cats. Specifically, you will take care of a cat named Angela from childhood to adulthood. They also have the process of developing and growing up like in real life. This cat has an adorable expression. Therefore, you have an exciting virtual friend. You can also take your cat to socialize with the pets of other players around the world. Interesting, isn't it?
FAQs
1
What are the configuration requirements of the game?
It requires devices running Android 5.0 or above.
2
What is the price of the In-app items?
The prices are from $0.99 - $99.99 per item.
3
Does this game contain the advertisement?
Yes, it has ads.